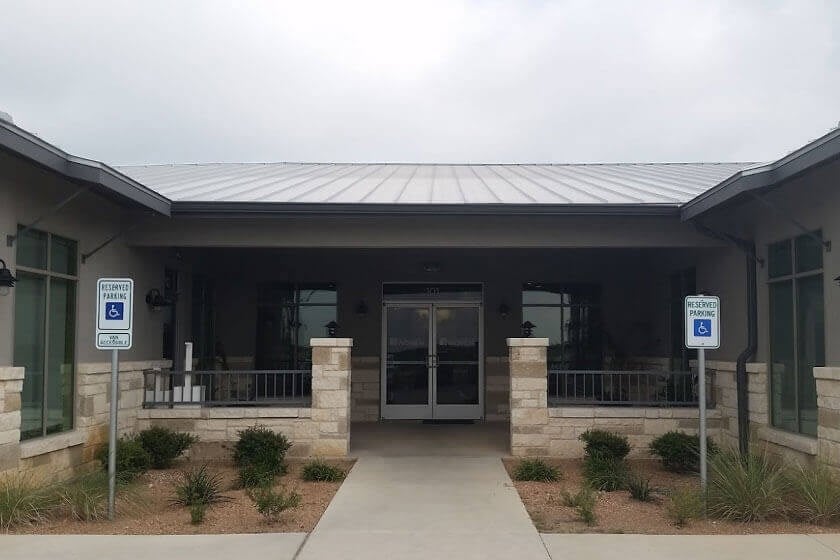 Our New Braunfels, TX Facility
Welcome to our women's healthcare facility in New Braunfels, TX. Newly constructed and opened in the summer of 2016, our New Braunfels, TX facility is a sophisticated, welcoming office we hope you will enjoy when coming to your next visit. Our reception area is decorated in modern, neutral tones that provide a relaxing atmosphere while you wait for your appointment to begin. We offer complimentary bottled water and in-house reading material for your enjoyment. You will be escorted into one of our 15 sterile exam rooms where you will be examined, tested, and/or attended to according to your treatment plan. Our New Braunfels office is equipped with state-of-the-art diagnostic imaging machines (such as ultrasounds), minor procedure rooms, and a seasoned nursing and medical staff.
As our board-certified OBGYNs (Drs. Teresa Irwin, Barrett Blaue, Kari Fay, Beth Reid, and Brittney Schumann, M.D., F.A.C.O.G.) and board-eligible OBGYN (Dr. Lauren Hermann) often rotate between locations or are on-call for a baby delivery, you may not always see the same doctor at your next appointment. You can schedule appointments for well-woman exams, pregnancy and prenatal care, childbirth services, menopausal hormone replacement therapy, and consultations for a wide array of urogynecological concerns and disorders. Our medical team also provides diagnostic imaging, on-site blood and urine collection for testing, and much more for your convenience. There are no surgeries, however, performed at New Braunfels, TX.
We do offer the following services or treatments in our New Braunfels office:
Hysteroscopy
Uterine ablation
Cystoscopy
Colposcopy
Loop electrical excision procedures (LEEP)
Essure sterilization
The majority of our gynecology or urogynecology treatments and/or surgeries are performed off-site at Resolute Health and Central Texas Medical Center. Our doctors are proud to have medical privileges at the following hospitals and medical centers:
Resolute Health Hospital in New Braunfels, TX
St. David's South Austin Medical Center in Austin, TX