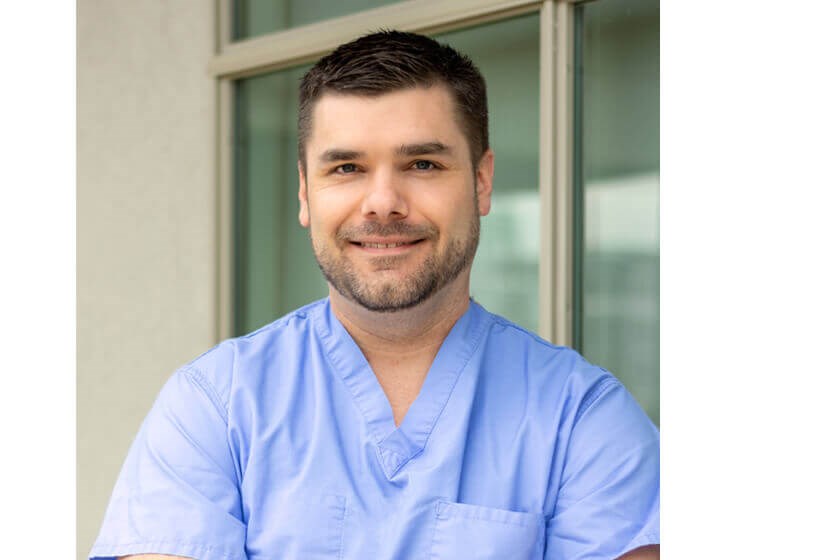 Since 2009, our board-certified OBGYN, Dr. Barrett Blaue, has treated women in San Marcos and New Braunfels, TX with reproductive medicine. He is board certified by the American Board of Obstetrics and Gynecology (ABOG) and is a fellow of the American College of Obstetricians and Gynecologists (ACOG). Dr. Blaue is a proud member of the Texas Medical Association (TMA) and the TriCounty Medical Society.
Along with the other members of the surgical team at the Caring Center for Women, Dr. Blaue is certified in da Vinci robotic surgery. In the operating room, Dr. Blaue regularly performs cystoscopies, ovarian surgery, tubal ligations, and vaginal prolapse and injury repairs. He has several medical privileges to hospitals in the San Antonio – Austin, TX Corridor, including the Central Texas Medical Center.
At the Caring Center for Women, Dr. Blaue offers women services in obstetrics, gynecology, and urogynecology. He is very skilled in prenatal care, all types of testing during pregnancy, cesarean sections, vaginal births after cesarean (VBAC), tubal ligation, and removal of the reproductive organs. In San Marcos and New Braunfels, Dr. Blaue is also known for his open hysterectomies, colporrhaphy, colposcopies, LEEP, D&C, and da Vinci robotic-assisted gynecological surgeries.
In 2001, Dr. Blaue attended Saint Mary's University in San Antonio, TX and graduated Magna Cum Laude with a Bachelor of Science degree. He earned his Doctor of Medicine from the University of Texas Health Science Center in Houston, TX. Dr. Blaue went on to complete an OBGYN residency at Methodist Hospital in Houston, TX.
You may find Dr. Blaue and his family watching basketball and cheering on the San Antonio Spurs. He cherishes spending quality time together when he is not working. Dr. Blaue is married to Heidi, and together they have three sons (Max, Dean, and Wyatt). He is also an avid runner.
Reviews
"What an amazing experience!"
Test
Office Visit
"Dr, Blaue is wonderful! I was referred to him by another doctor, and my first visit in, he came into the appointment prepared. He made me feel like he had really studied my file, and really cared about me. That was 2 1/2 years ago, and I wouldn't go anywhere else. The office staff is friendly and caring as well. I honestly do not feel like a number there at all. No one rushes you in and out of the office. I highly recommend Dr. Blaue!"
M.R.
ZocDoc
"All of the staff was efficient and friendly. Wait time was very short. Communication was great- each person I had contact with explained clearly the process and procedures. Dr. Blaue was really pleasant and made me feel comfortable right away. He took his time asking questions and listened carefully to my responses. I felt like he was treating the source of my issue and not just symptoms. I recommend this provider and facility."
K.T.
ZocDoc
"It was great. Dr Blaue is awesome. He sits down with you and ask you how you feel and what's going on. Straight up with you too!"
L.R.
ZocDoc
"Dr. Blaue was so easy to talk to, and was so professional. His office got back to me promptly about follow up. The best compliment I can give a doctor is that he listened, and made me feel like I could trust his care. Great doctor."
K.K.
ZocDoc